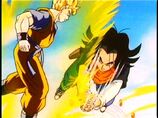 This page is about naming your own technique(or technically creating it from random kicks and punches) and vote for other people's techniques, you can not vote the technique you named.
The two techniques(from the two categories, see below*) with the most votes, will be placed on the main page, with the name of the user that named the technique, next to it.
For the results of the votes, see the results section, the results will come, when the month is over, so every month it will be a new voting(as more techniques will have be created, or the results will stay the same) and if in that period the techniques, with the most votes, change, than the two techniques with the most of that month will replace the other ones in the main page.
Please put the name of the technique and the description, the way I did(do not put an infobox):
For Example:
Super Strike
Edit
Super Strike is.......................(since it is an example, I am not going to put a long text), also put picture on the right in thumb, 250px the most and the Japanese name of the technique, you can translated on google translator.
That is it for how do you put your technique.
Now about how you vote.
You vote in *two categories:
In the first, you vote the technique you like the best and in the second one, you vote the one with the best grammar.
Please put your signature under the section, for voting.
Please every edit you made, must be under this section, here are just the instructions.
Techniques:
Edit
Put your techniques under this section, the way you saw above:
For the technique, you liked better vote here:Edit
Put the name of the technique you vote and your signature next to it under this section:
For the technique, with the best grammar vote here:Edit
Put the name of the technique you vote and your signature next to it under this section:
The results, are going to be posted here.
Ad blocker interference detected!
Wikia is a free-to-use site that makes money from advertising. We have a modified experience for viewers using ad blockers

Wikia is not accessible if you've made further modifications. Remove the custom ad blocker rule(s) and the page will load as expected.